---
What's New?

Links to Philippine media organizations, embassies & consulates,
public and private offices and organizations.
Click here

Philippine Flag
Click here
National Anthem
Click here
Banaue Rice Terraces: Product of Ifugao's religion culture

By Lynda B. Valencia, PNA Senior News Editor

BANAUE, Ifugao (PNA) -- The Banaue Rice Terraces, dubbed as the Eighth Wonder of the World, are the product of the religion and culture of the Ifugaos.
For thousands of years, it stood as a symbol of human ingenuity.
As a major Philippine tourist attraction, it is an awesome sight
rising from the base of the mountains to several thousands of feet
above sea level.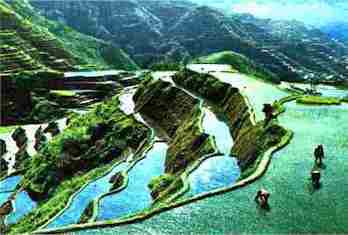 Banaue Rice Terraces
Viewed from any vantage point, they appear to be massive green
stairways reaching to the sky. Their length put end to end will
encircle half of the globe.
A panorama of green, the terraces serve as the basic food source
for the sturdy Ifugaos.
It is a credit to the inherent wisom of their forefathers that
they instituted a forest management system. Families are allocated
small patches of forest which they carefully protect and manage for
the provision of food for fuel, housing and as a watershed from which
come the much-needed water for irrigating the terrace.
Banaue Mayor John Wesley Dulawan said there are five major
terraces sites in Ifugao, namely, Banaue, Batad, Mayoyao, Hapao and Kiangan. These terraces are similar yet distinct from one another
such that UNESCO has included all of them in the world heritage list,
the first to be inscribed as a continuing living cultural landscape.
Batad in Banaue is home to the tiered, amphitheater-shaped
terraces; in Mayayao Rice Terraces, Tinaown in red and white
varieties is harvested in abundance; Hapao's stone-walled rice
terraces' dates back to 650 AD; and Kiangan is home to two famous
rice terraces sites, namely, Nagacadan and Julungan.
But the most famous of all the sites is Banaue Rice Terraces, the
leading tourism destination.
To endure as a living landscape in the face of the present-day
challenges to its integrity and survival, it is necessary that the
traditional lifestyles of the Ifugao continues, Dulawan said.
The cultivation of the rice terraces constitutes a yearly
celebration and renewal of the culture and Ifugao lifestyle. This
harmony between culture and nature is the essence of the Banaue Rice Terraces.
Dulawan said the Ifugao culture is currently undergoing dramatic
social changes brought about by the influence of several factors.
Christianity and education have weaned young tribal people away from their tribal customs and from their land and agriculture.
Many tribal people are assimilating lowland ways and moving to the lowlands where many economic opportunities outside farming beckon.
Many government systems have intruded tribal leadership structures thus weakening the observance of tribal rituals.
Economic pressures due to limited opportunities in the province
are forcing many Ifugaos to migrate to other provinces, abandoning
rice terraces farming in favor of more lucrative livelihood
opportunities.
Social prestige associated with rice production is waning in favor
of the cash economy as shown by the shift to vegetable farming and
commercialization of culture in relation to tourism.
The terraces now face the danger of erosion, partly due to lack of
knowledge of tribesmen on water and irrgation management programs and partly due to the massive influx of tourists into the area.
DOT Secretary Gemma Cruz Araneta said tourism has provided a
thriving industry for tribesmen in the region but not without adverse
effects on the communities.
Araneta said the rice terraces are an expression of the Ifugao's
mastery of the watershed ecology and terrace engineering. It is a
complex faring system consisting not only of the terrace ponds but
also the "muyongs."
All these components of the terraces system must be taken together if the rice terraces is to be restored.
In general, the very basic and broad issue that confronts the
development of the Banaue Rice Terraces is the degree to which social change has compromised the appropriate and functional values of the traditional Ifugao culture to sustain the rice terraces and its
environment.
Social change in Ifugao is inevitable and reconciling traditional
modern attitudes and values would require careful Ifugao people based
on what they believe in and consider as important. (PNA Feature)