---
What's New?

Links to Philippine media organizations, embassies & consulates,
public and private offices and organizations.
Click here

Philippine Flag
Click here
National Anthem
Click here
Arts & Culture

A more extensive study of Filipino art forms, of the ornaments and implements of day-to-day living, of the crafts practiced in wood,
stone and metal, and in the more recognized products of painting and sculpture will show that despite obvious foreign influences, there is
a truly indigenous Philippine art.
The same may be said of Filipino culture, which has manifested traditional pre-Spanish features, so that today the Filipino identifies himself with the Malay character, and accepts the varying influences of the Chinese, Indian, Spanish and American.
In Philippine art, as in its culture, one notes the various shades, lines and tones, and even the contrasting characters that have been absorbed and blended into new forms that are particularly Filipino.

The Cultural Center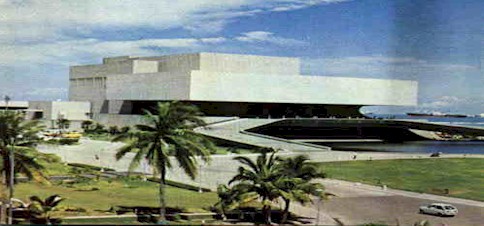 Cultural Center of the Philippines
This is a complex of buildings on a 21-hectare site in Roxas Boulevard, by the sea. Inaugurated in 1969, it is the newest and most distinctive construction afforded the arts. Envisioned as a repository of the country's artistic and cultural heritage, it also aims to encourage the further development of the arts. The buildings house a theater for the performing arts, a museum and art gallery, an art and music library, and an open amphitheater.

Painting and Sculpture

The first art school was established by Damian Domingo in 1820. In the 1800's Filipino painters won recognition abroad, when Mariano Madrinan won King Alfonso XII's gold medal and diploma of honor in the Amsterdam International Exposition of 1884, and Juan Luna's Spoliarium was awarded first prize at an art competition in Madrid.
The University of the Philippines and University of Santo Tomas, among others, have done much in providing formal education in fine arts. Europe has exerted great influence in Philippine arts, and one finds the echoes of Western traditions blended with Oriental character in many past as well as contemporary works.
Newly-awakened interest in Philippine religious painting and sculpture which dates back to the early years of Spanish colonization has brought to light new qualities and quantities of art of that time. Fernando Zobel has come out with a book on religious sculpture in the Philippines and Galo Ocampo edited a book on the same subject.
There are several museums and permanent galleries located in Manila, among them the National Museum, the Luz Gallery and Solidaridad Gallery. The Art Association of the Philippines is an active organization and holds annual exhibits. Other well known groups are the Association of Sculptors and and Association of Printmakers.

Architecture

The basic forms of architecture in the Philippines before the Spanish came was governed by the building's functional uses as shelter, and by the materials available. The builders had no formal training in the basic forms of design and yet were able to create something valid and functional, a style which exists to this day. Both Ifugao and Maranaw architectures illustrate this.
The bahay kubo, or nipa hut, another architectural form made of impermanent materials, has a style that has lasted through the years. In the 1500's the Spaniards introduced masonry in the Philippines, yet the nipa hut's basic form of structure, the high roof and rectangular plan, were retained.
The Spaniards tried to plan the city, and to this day we have landmarks that date back to the Spanish. Churches, forts, and some government buildings and plazas remain as historical spot and fine examples of architecture.
The Americans introduced mainly a change in technology, new designs achieved with new materials.

Theater

Contemporary theater make up the greater part of Philippine theater fare. Most of the plays are from European and American dramas, although more and more Filipino playwrights are being produced.
There are revivals of zarzuelas (political and social satires) and the rural theater circuit usually provide welcome spectacles of the moro-moro, and the cenaculo, the latter version of the Passion Play.

Literature

A rich body of unwritten literature existed in the Philippines before the arrival of the Spaniards. The first printed book was the Doctrina Cristiana (1593). Other works written and printed at the time were mostly religious in nature. Francisco Balagtas wrote Florante at Laura, a metrical romance which earned him the title of prince of Philippine poets.
The most notable writer of the Spanish period was also to become the country's national hero, Jose Rizal, whose Noli Me Tangere and El Filibusterismo partly inspired the Philippine Revolution.
The Americans brought the newspapers, as well as the English language, and today a body of literature exists in English. There has been, however, a sustained effort to preserve both the functional and literary charms of Filipino language. It is generally hoped that the great Filipino novel will still be written in the national language.

Archeology

Diggings in many parts of the Philippines have yielded rich artifacts.
Battings (a province in Southern Luzon) has unearthed enormous amounts of Philippine and Asian pottery and porcelain. The Calatagan excavations alone represent a milestone in the history of Philippine archeology.
Diggings in several other places, primarily in Mindoro, Bicol, Iloilo, Sta Ana. Manila and in towns of Laguna have focused attention on Oriental ceramics and earthenware. Primary, secondary and tertiary burial jars, along with golds coins, jewelry, incense jarlets, celadon bowls and plates have found their way to most private homes and antique and curio stores.
Other parts of the country have yielded as many treasures and well-preserved artifacts, like iron tools and household articles. Some of the most outstanding were those found in the caves of Lipoon Point, also known as Albion head, in Quezon, Palawan. Dr. Robert Fox, senior archeologist of the National Museum, discovered a fossilized skull cap at the Tabon Cave. Together with the skull cap, other stone tools, pottery and various artifacts estimated to be between 15,000 to 25,000 years old were discovered.

Music

Philippine tribal music antedates the first Filipino musicians trained in western music, most probably in the 17th century. The 19th century produced Marcelo Adonay, trained by the Agustinian Order, and composer of full orchestral accompaniments to the Grand Mass, Te Deum, Benedictus, among others. Jose Estrella composed stage music at the turn of the century, and wrote several operas and the first complete symphony, aside from waltzes and musical plays.
A type of contemporary music that relates to the tribal music with its stringed instruments, and to Western music as well, is the Rondalla, a native string band which again best typifies the blending of many influences that go into the cultivation of an indigenous art form.
Great Philippine Classics is a collection of Philippine classical music published by the National Philharmonic Society of the Philippines through the initiative of its founder Redentor L. Romero. It is a collection of works of great Filipino masters, such as Bonifacio Abdon, Nicanor Abelardo, Constacio de Guzman, Felipe P. de Leon, Antonio J. Molina, Hilarion Rubio, Leopoldo Silos, Santiago Suarez, Ernesto Vallejo, Manuel Velez and Ben Zubiri. Of the 14 pieces, only five, however, are original violin works: Cavatina, Abelardo ; Habanera Filipina No. 2, Vallejo; Kundiman, F. P de Leon; Hating-gabi, Molina; and Salamisim, Rubio. The rest were written mainly for voice and piano. And of these five composers only Ernesto Vallejo was a violinist.
This includes: Bayan Ko; Cavatina, Habanera Filipina No. 2; Hating-gabi; Katakataka; Kundiman (B. Abdon); Kundiman (F. P. de Leon); Lagi Kitang Naaalala; Matud Nila; Mutya ng Pasig; No Du Duaem Pay; Sa Kabukiran; Salamisim; and Sarung Bangui.
Redentor L. Romero's conducting career is unparalleled in Philippine music history. He is the country's first and only international conductor whose appearances span five continents. He is also one of the few Asian conductors hailed worldwide by critics. He has conducted ssuch renowned orchestras as the USSR State Orchestra and Moscow Symphony at the Bolshoi and Tchaikovsky Halls, The American Symphony at Carnegie Hall, London Philharmonic, Royal Philharmonic and almost all of the orchestras in the USR (in 15 tours) and socialist countries, Europe, New Zealand, Australia and South Amarica. Many of the world's leading artists have appeared under his baton.
"Gaano Ko Ikaw Kamahal" (How Much Do I Love You) by Ernani Cuenco, (our background sound) is one of the 14 pieces of works arrangements and orchestrations by Redentor L. Romero entitled "Damdaming Pinoy". With the renowned Moscow Philharmonic Orchestra and Prof. Romero conducting, "Damdaming Pinoy" was recorded and played. These classic local compositions are 1) Sapagkat Kami'y Tao Lamang by T. Maiquez; Katakataka by S. Suarez; Kapantay ay Langit by G. Canseco; Ikaw by M. Velarde; Yakapin Mo Ako by L. Ocampo; Anak Fantasie by F. Aguilar; Maalaala Mo Kaya by C. de Guzman; Gaano Ko Ikaw Kamahal by E. Cuenco; Dahil Sa Iyo by M. Velarde; Walay Angay by Folk; Bakya Mo Neneng by S. Suarez; Usahay by Folk; Ikaw Ang Mahal Ko by T. Arevalo; and Saan Ka Man Naroroon by R. Umali.